Action / Documentary series of photographs
Website (www.cercasi.ch)

Studio and working grant in Rome
Culture department of canton St. Gallen


Public space in the city of Rome
01 August – 31 October 2008
All over the city of Rome small posters are put up saying VENDESI (for sale) and AFFITASI (for rent). This series also includes the sign CERCASI (wanted).
For the action, CERCASI signs of different sizes were created. Equipped with the posters, a black pen, adhesive tape and a camera, we searched for discarded objects in the city.
Objects lacking a part were provided with a CERCASI sign on which the part wanted was written down by hand.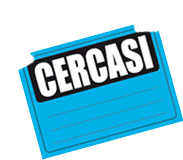 about the unemployment of things
wanted